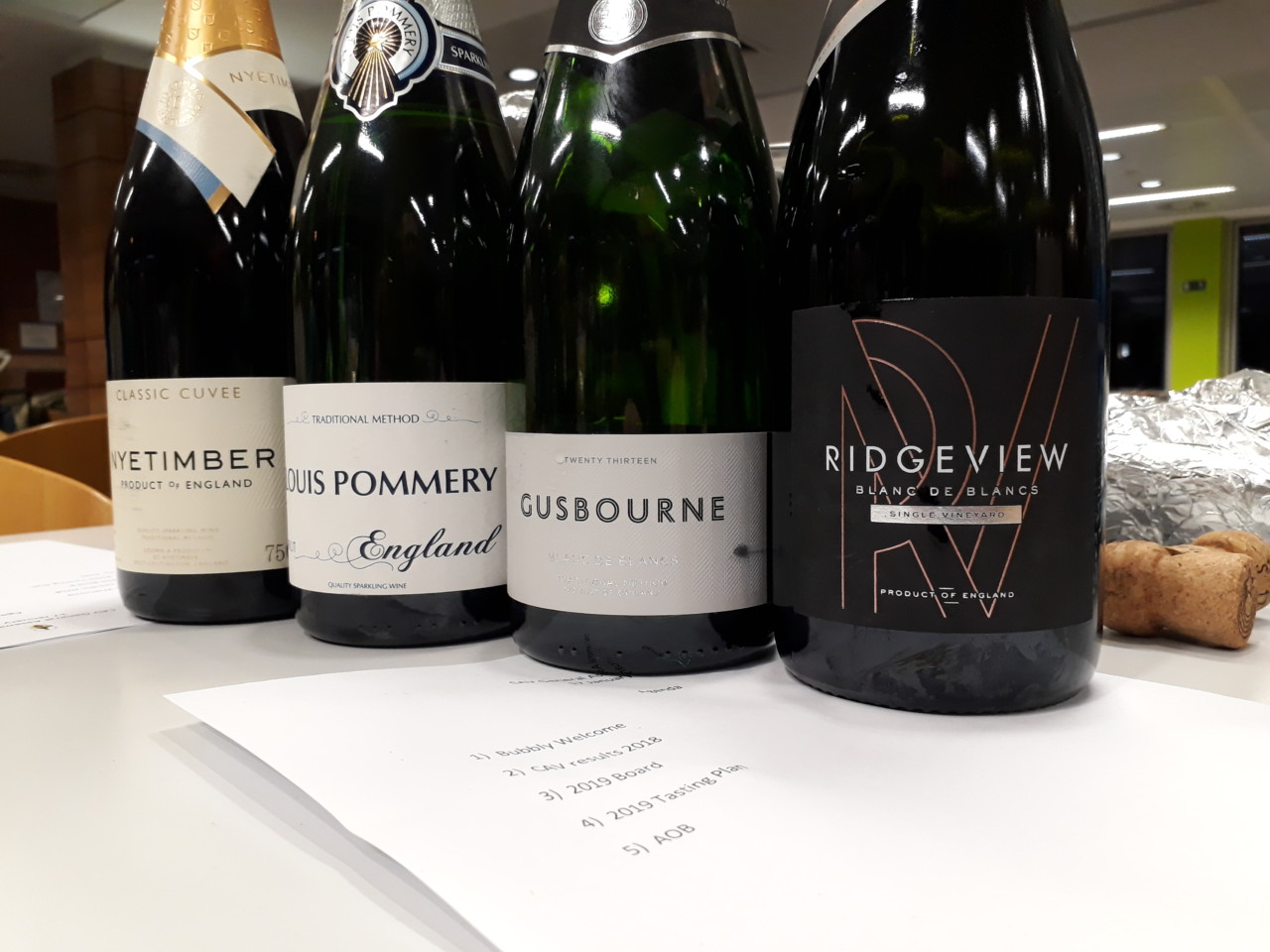 The Battle of the Bubbles: England vs Belgium
On a private initiative of employees of the European Commission, members of the Brussels CAV-club, English and Belgian sparkling wines have been tasted blindly by Spanish, Danish, German, Italian, Dutch, English and Belgian wine lovers. Organiser: Pedro Ballesteros MW. Invited for the occasion and also tasting blind: Vino.
On the day of the event January 17th, the snow hadn't fallen yet and there was still no news about the Brexit. However, all participants agreed this battle was a thing that had to be organised right away, knowing how difficult it is to get English sparkling wines in Belgium. And the Brexit has still to come.
Some 15 sparkling wines appeared on the table, all produced following the de "méthode traditionnelle" (traditional method), with second fermentation in the bottle. Listed below are the top-8 wines of the tasting:
• Nyetimber Classic Cuvée 2016 Brut, English sparkling wine (Sussex), limpid yellow colour with golden reflections, beautiful nose with hints of bread yeast, good structure, fine and delicate finish.
Score: 92/100. Price ±€40
• Schorpion Fibonacci Brut, Belgian sparkling wine (Haspengouw, Limburg). Delicate opening, some evolution in the nose, beautifully woven acidity and fruit, pure and fine in the final.
Score: 91/100. Price ±€43
• Ridgeview Blanc de Blancs "Single Vineyard" Brut, English sparkling wine (East Sussex). Very vivid (100% chardonnay) with hints of citrus, pure and well structured. Apparently, a lower dosage.
Score: 90/100. Price ±€70
• Rufus Grande Cuvée Franco Dragone Brut, Belgian sparkling wine (Hainaut). Powerful opening, more of a genuine wine character (vinous), oxidative style. A round attack, with a nice balance of fruit and acidity and a gentle finish.
Score: 89/100. Price ±43
• Louis Pommery Brut (Groupe Vranken), English sparkling wine (Hampshire). Discrete on the nose, hint of acacia, vinous, little dip in the mid-palate, light salinity, nice balance.
Score: 89/100. Price ±€48
• Schorpion Zwart Brut. Belgian sparkling Wine (Hasepngouw, Limburg). Light yellow with golden reflections. Aromas of brioche, white stone fruit and soft spices. Perfect acidity, that misses just a bit of structure. Enjoyable finish.
Score: 88/100. Price ±€24
• Gusbourne Blanc de Blancs Brut. English sparkling wine (Kent). Higher in acidity, some green touches. Nice structure but with a rather light body. A longer time on the lees could be helpful but that at the expense of the cash flow, and we've been told, that the estate is on the stock exchange.
Score: 88/100. Price ±€50
• Entre-Deux-Monts Bacquaert Brut Blanc. Belgian sparkling wine (Heuvelland, West-Flanders). Nose that reflects the ageing in oak barrels, giving a lot of charm. But the mid-palate misses just that bit of body and structure to integrate the wood well.
Score: 88/100. Price ±€22
The result: 4-4, with two remarks: the English would have been on the winning side, if we were to simply go by the score, but the Belgian clearly have a more affordable price label. Could it be the short distance between the Belgian border and Champagne that makes the Belgians more reasonable? On the other hand, the English show more maturity in their style of making sparkling wines. Let's turn that into an annual event, and why not with a professional jury next time?